Diamond, Outstanding Ambassador of the Pit Bull Breed is spcaLA's 29th Annual National Hero Dog
» May 4, 2011
Los Angeles, CA—Society for the Prevention of Cruelty to Animals Los Angeles (spcaLA) presented its 29th Annual National Hero Dog Award to Diamond, a 15 month-old Pit Bull from Hayward, CA. The ceremony was held this morning at Nokia Plaza L.A. LIVE in downtown Los Angeles.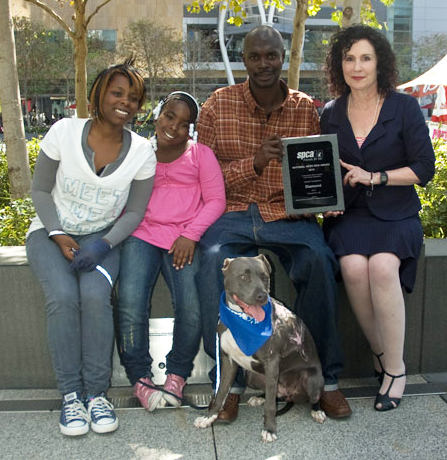 In October of 2010, Darryl Steen and his two daughters, Sierra (16) and Darahne (9) were fast asleep in the apartment. Darryl was woken by the barks of the family's Pit Bull, Diamond. He quickly smelled smoked and realized the family's apartment was on fire. He rushed to save his daughters. He reached Darahne first. Darryl dropped Darahne out of a second story window to safety. He could not reach his eldest daughter, Sierra. Diamond stayed with Sierra, protecting her from the flames until firefighters were able to rescue them. Both Sierra and Diamond sustained burns and suffered from smoke inhalation. After a month-long recovery at a veterinary hospital, Diamond recovered and was reunited with her family. Sierra and her father have both received skin graft treatments. The family lost everything in the blaze and still has not secured a new residence.>
"I have heard many stories of dogs alerting their human companions to danger, such as a fire," said spcaLA President, Madeline Bernstein, "but this dog stayed with her companion even while being burned. It just shows how intense the human animal bond can be when we show kindness towards animals."
The presenting sponsor of spcaLA's 2010 National Hero Dog Award is Newport Creative Communications. The National Hero Dog and family received a year's supply of California Natural brand pet food donated by Natura Pet Products and a commemorative plaque from spcaLA. Air travel for the National Hero Dog and family are courtesy of Virgin America. Lodging in Los Angeles for the National Hero Dog and family are courtesy of the pet-friendly Palomar Hotel Los Angeles—Westwood, a Kimpton Hotel.
For more than two decades, spcaLA has recognized the heroic efforts of a dog that is a companion animal and not formally trained for rescues or law enforcement.
Photos available upon request. For more information or to schedule an interview, please contact Ana Bustilloz at 323-730-5300 x252 or abustilloz@spcaLA.com.
About Newport Creative Communications
Newport Creative Communications is a leading fundraising consulting agency serving more than 70 nonprofit clients. For over 25 years, Newport has paired results-driven direct marketing strategy, analytics and service with award-winning creative and design to help clients build long-lasting relationships with their donors. For more information, visit www.newportcreative.com.
About Hotel Palomar Los Angeles – Westwood
Only minutes from Rodeo Drive, Beverly Hills and Bel-Air, Hotel Palomar Los Angeles' 19-story building features 264 guestrooms and suites, all of them as effortlessly comfortable as they are luxuriously unique. Stunning views of the Los Angeles city skyline, beautifully designed rooms by Beverly Hills designer Cheryl Rowley, and unparalleled amenities await guests of this Kimpton boutique hotel.
About Kimpton
San Francisco-based Kimpton Hotels & Restaurants is the first and leading collection of boutique hotels throughout the United States and Canada. Founded by Bill Kimpton in 1981, privately held Kimpton offers services and design elements focused on care, comfort, style, flavor and fun. Every Kimpton hotel reflects the energy, personality and pulse of its location, history and architectural style. Each property features personalized guest services, comforting in-room amenities, specialty rooms and suites, and provides a range of exciting culinary experiences through affiliated top-rated destination chef-driven restaurants. Kimpton takes pride in its commitment to social responsibility and leads the hospitality industry in ecological practices through its innovative EarthCare programs. In addition, Kimpton demonstrates a unique dedication to its female guests with the Women InTouch program, offering comfortable and safe environments, in-room fitness and wellness options as well as the company's unique "Forgot It, We've Got It" honor bar, providing essentials that women travelers may have forgotten at home. For more information, please visit www.KimptonHotels.com or call 1-800-KIMPTON.
About Virgin America
Headquartered in California and launched in August 2007, Virgin America offers guests attractive fares and a host of innovative features aimed at reinventing air travel. The airline's new aircraft offer interactive in-flight entertainment systems and power outlets near every seat for electronic gear. Virgin America offers Gogo™ in-flight internet service on every flight and hosts the largest in-flight entertainment library in the North American skies via the touch-screen Red™ platform. In just three over years flying, the carrier was named "Best Domestic Airline" in the Condé Nast Traveler 2008, 2009 and 2010 Readers' Choice Awards and "Best Domestic Airline" in Travel + Leisure's 2008, 2009 and 2010 World's Best Awards. The airline's current base of operations is San Francisco International Airport's (SFO) International Terminal. On April 14, 2011, the airline will grow to become an anchor tenant at SFO's new Terminal 2. Virgin America flies to San Francisco, Los Angeles, New York, Washington D.C., Seattle, Las Vegas, San Diego, Boston, Fort Lauderdale, Orlando, Dallas-Fort Worth, Los Cabos, Cancun and Chicago (as of May 25, 2011). For more information visit www.virginamerica.com.
About Natura Pet Products
Founded in 1989 by John and Ann Rademakers and Peter Atkins, Natura is recognized as the most trusted name behind the healthiest dog and cat food products in the world. Natura's products are formulated, manufactured, and prepared to the highest standards of quality in the industry. Lines include: Innova, California Natural, EVO, HealthWise, Mother Nature, and Karma. For more information visit www.naturapet.com or call (800) 532-7261.
About
spca

LA

Society for the Prevention Cruelty to Animals Los Angeles (spcaLA) is an independent, nonprofit animal welfare organization serving Southern California since 1877. There is no national SPCA, parent organization, or umbrella group that provides financial support to spcaLA. Donations run programs and services including Cruelty Investigation, Disaster Animal Response Team, Humane Education, and a variety of shelter services.